First time entrants to UGCY take the crown at the 7th annual show!
The 7th annual University Gospel Choir of the Year (UGCY) competition, held on the 18th March 2017 at the Golders Green Hippodrome was a spectacular show! Hosted by MOBO-Award winning singer Rachel Kerrand judged by Ayo Oyerinde, Mark De-Lisser, and Stephanie Oyerinde, the competition featured over 300 University performers and gathered well over 1,000 guests!
ARVE Error: Mode: lazyload not available (ARVE Pro not active?), switching to normal mode

The 10 finalist choirs were from University of Cambridge, University of Hertfordshire, University of Derby, Plymouth University, Queen Mary University, University of Westminster, Imperial College London, London College of Creative Media, University of Leicester & Canterbury Christ Church.
The show opened up with a performance from the UGCY house choir 'Uplifted Voices', performing Kurt Carr's hit song "God Great God". The first University choir, Cambridge University Gospel Choir, then took to the stage, impressing the audience with their a cappella version of 'Ride On King Jesus'. Their performance was followed by Imperial College Gospel Choir, Plymouth University Gospel Choir and University of Derby Gospel Choir. LCCM closed off the first half with a rousing performance of Kirk Franklin's 'Hosanna' and Richard Smallwood's 'Total Praise' which had the entire audience, including judges, on their feet.
After the interval Rachel Kerr returned to the stage to reveal that Plymouth and Imperial University would be taking to the stage again to perform part of their performance due to complications during their first performance. Once they had been given their fair chance at another performance, UGCY 2015 winners Leicester University Voices took to the stage to give a solid, high energy performance that impressed both judges and audience. United Herts Gospel Choir, QM Unite Gospel Choir and University of Westminster Gospel Choir followed with equally impressive performances. Christ Church Gospel Choir then closed off with a rock inspired version of 'He Reigns' by Kirk Franklin and 'Awesome God' by Fred Hammond.
All 300+ singers then filled the stage and aisles for a high energy performance of 'Great God' by Deitrick Haddon, led by Artist and musician Leonn Meade. Once the Mass Choir performance was over it was time for the winners to be announced. Leicester University Voices took second place and Canterbury Christ Church Gospel Choir took third place. Host, Rachel Kerr then announced that the UGCY 2017 winner would be opening up for US Gospel Artist Travis Greene at his London concert in April, before revealing that the winning choir was the well deserving LCCM Choir!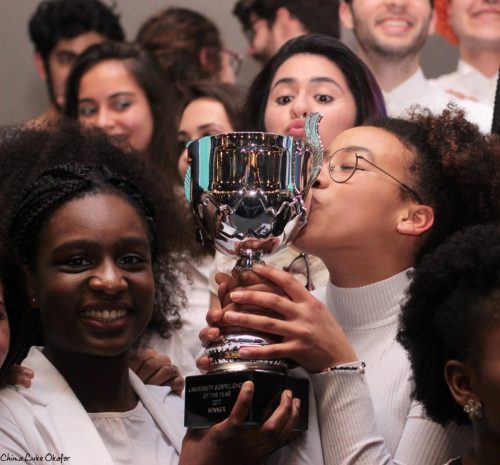 We spoke to Nadine Lee (one half of Ekklesia) who was instrumental in preparing LCCM for the competition and she said, "So proud of my choir! God loves excellence and that's exactly what they gave at UGCY! Onward and upward!"
https://youtu.be/Prs0nTIpKkA
As their prize, UGCY 2017 winners LCCM supported Travis Greene in concert!
Check out what LCCM have been up to since they won UGCY 2017 here
UGCY is proud to be able to provide such a unique platform for University Students to display their talents! We invite you to experience the creativity of theses students with their uplifting songs and performances as many have done since 2011!
 Gospel Love!
Review courtesy of astepfwd