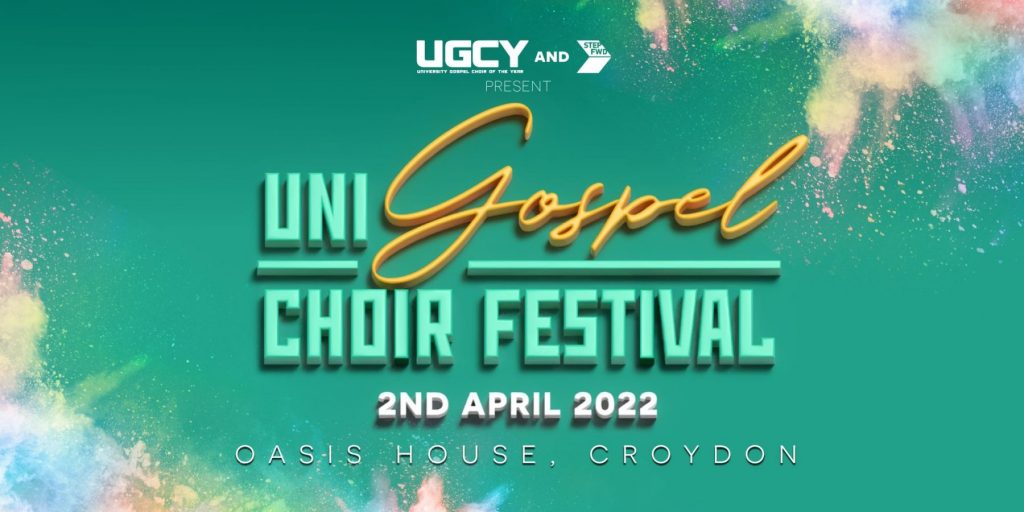 This year University Gospel Choir of the Year (UGCY) brings you for the first time a well-needed celebration of all things choir at the Uni Gospel Choir Festival. To accomplish this we have teamed up with leading national platform A Step FWD who run the UK Christian Charts and other initiatives.
With the global pandemic affecting all aspects of life globally across the past 2 years, university choirs here in the UK have had a challenging time to say the least. Despite the challenges, they are still up and running against all the odds, which is in itself remarkable. It is to honour this resilient spirit we have decided that rather than having a competition, we will come together with a heart of gratitude and thanksgiving, to support each other and celebrate life.
Tickets are available here: https://unigospelchoirfest.eventbrite.co.uk
So come join university choirs from all around the United Kingdom along with special guests for one night only this 2nd April 2022 as we gather to perform rather than compete, showcasing not only their talent but the ethos of the gospel; love of community. The line-up features the following choirs:
Kent Gospel Choir (University of Kent)
Durham University Gospel Choir (Durham University)
UOB Gospel Choir (University of Birmingham)
Portsmouth Gospel Choir (University of Portsmouth)
Warwick Gospel Choir (University of Warwick)
VOCE Gospel (University College London)
Kings Gospel Society (Kings College London)
Keele University Gospel Choir (Keele University)
United Herts Gospel Choir (University of Hertfordshire)
Sounds of Zion Choir (University of Sussex and Brighton)
UGCY returns to normal programming with our competitions in 2023 and choirs are already gearing up for that too.
In the meantime however, don't miss what promises to be a glorious night of singing.
Thanks for your patience with us and we look forward to seeing you there!
---