Article courtesy of LCCM:
Our UGCY 2017 Winners LCCM Choir smashed their final performance this Sunday on BBC One's Songs of Praise Gospel Choir of the Year competition. Despite not winning overall, they got some amazing feedback from the judging panel, including the one and only pop legend, Seal. Headed up by choir leader and third year vocals student Judith Musoki, LCCM brought a lot of energy to the stage!
The judges had a great deal of encouragement for the choir, all very impressed with the energy and joy they brought to the stage. Pop artist Seal said:
"Three words: love, love loved it. . . There's a vitality and you can just feel that and you can see that. You guys were just willing to have a go and take chances and be daring. It was just sensational, I can't say enough."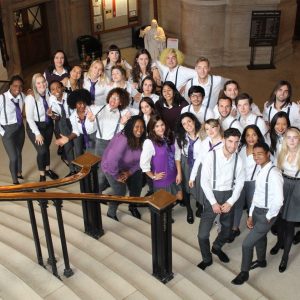 Even though the choir didn't take away the top prize, they were thrilled with reaching the finals of the competition. Choir member Sam Pearce summed up everyone's excitement at participating: "We got to sing in Westminster Hall… in front of Seal! He said we were his favourite and wants to come see us live, so we're definitely going to take him up on that!"
Stay tuned for even bigger and better things from the choir in 2018! And don't forget to take a peek at their performance from this weekend, down below.
ARVE Error: Mode: lazyload not available (ARVE Pro not active?), switching to normal mode