UGCY AFRICA 2018
UGCY Africa – Ghana 2nd Edition is took place on October 28th 2018. Our next Africa Edition takes place in 2021! Do keep an eye out! 
Mioto Choir Of Central University Emerge Winner For 2018 UGCY
 It was the wish of each of the seven competing University Choirs to be the ultimate winner of the just ended University Gospel Choir of the Year competition. After 2 interesting rounds, Miotso Contemporary Mass Choir of Central University College emerged the 2018 University Gospel Choir of the Year (UGCY 2018).
The Liberty Assemblies of God church witnessed a beautiful competition of University Chorals on Sunday 28th October 2018. By 5pm the event had started in full speed as the trio, The King's Crew, a contemporary gospel artiste ministered back-to-back and charged the atmosphere with so much talent and energy.
The first round of the competition gave each choir the opportunity to sing a song of their choice while the second part the choirs were tasked to blend a Ghanaian and a South African song to be sung under 4 minutes.
The atmosphere was indeed very charged as audiences from the participating Universities left no stone- unturned as they dished out their full support to their individual Universities.
Chaplaincy Mass Choir from the University of Education at Winneba and the Heralds of Praise from the University of Ghana, Logon, took the second and third places respectively.
As the winning package for the Ultimate Choir, Miotso Contemporary Choir won a whooping Ghc 3,000.00 with amazing products from Malta Guinness. For the second and third runner ups, Chaplaincy Mas Choir and the Heralds of Praise won Ghc 1,500.00 and Ghc 1,000.00 respectively alongside other exciting packages from Malta Guinness.
The Other University Choirs who joined in the 2018 UGCY were winners of the maiden edition, GHAMSU International Choir– University of Education Winneba, Kharis Choir – University of Development Studies Tamale, Philharmonic Choir- Accra Technical University and Wiizzy Choir – Wisconsin Int. University, Accra.
The 2018 UGCY was sponsored by Christian Community Micro Finance (CCMF), Malta Guinness and powered by Gospeltown Africa.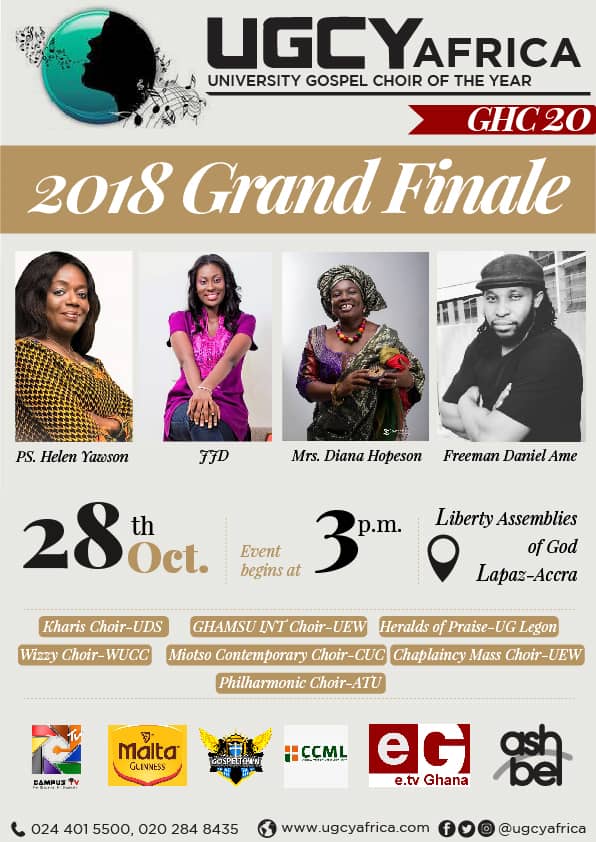 Take a look back at our 1st edition below!
For more info, visit www.ugcyafrica.com
The maiden edition of the annual University Gospel Choir of the Year (UGCY) Ghana competition took place on 13th March 2016. Following the success of the competition in the UK, the National Theatre, Accra played host to the maiden show, broadcasted on Viasat 1 TV.

The event held at the National Theatre saw ten choir groups from different universities across the country compete for the enviable title.

All were given six minutes to prove their prowess to patrons and most especially the six-member panel of musically inclined judges namely, Ps Helen Yawson, Ms Diana Hopeson, Obed Psych (Preachers GH fame), Noble Nketsiah, Nii Okai, Jennifer Jessica Dankwa.
GHAMSU choir from University of Education, Winneba were declared overall UGCY-Africa 2016 winners after a rousing performance of 'Emmanuel' set to the popular Barclays Premier League tune.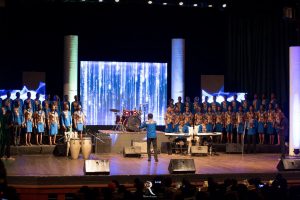 Cladded in blue and black, the GHAMSU Choir received a standing ovation from all judges after their performance.
"You are really an international choir, dynamics was excellent, your song selection was perfect" said Nii Okai, "I have goose bombs" Diana Hopeson stated. For Nobel Nketia, it was"Absolutely fantastic, exciting, and brilliant".

University of Ghana Stewards of Praise and Wizzy Choir of Wisconsin International University second and third respectively.

There were also musical performances from Nobel Nketia, Nii Okai and Preachers.
Shout Choir – University of Ghana, Legon

Philharmonic Choir – Accra Polytechnic

Kharis Choir – University for Development Studies (UDS)

Hearts of Worship – University of Ghana, Legon

Gracious 4 – Ashesi University

One Spirit Choir – University College of Management Studies (UCOMS)

Chaplaincy Choir – University of Education, Winneba
UGCY GHANA is powered by GospelTown Africa.