TICKETS TO UGCY 2019 ARE NOW ON SALE!
https://ugcy2019.eventbrite.co.uk
Since 2011, the multi-award winning University Gospel Choir of the Year (UGCY) has never failed to disappoint with its annual fun-filled, "sister-act"; "gospel choirs-meets-X Factor "style competition, that is guaranteed to leave you dancing, singing and wanting more!
Join us for the 9th Annual University Gospel Choir of the Year (UGCY) on April 6th 2019 which is set to be a fun and exhilarating evening where 8 university gospel choirs will battle it out to be crowned University Gospel Choir of the Year!
Check out our finalists below!
We are pleased to announce the 2019 UGCY finalists are (in no particular order):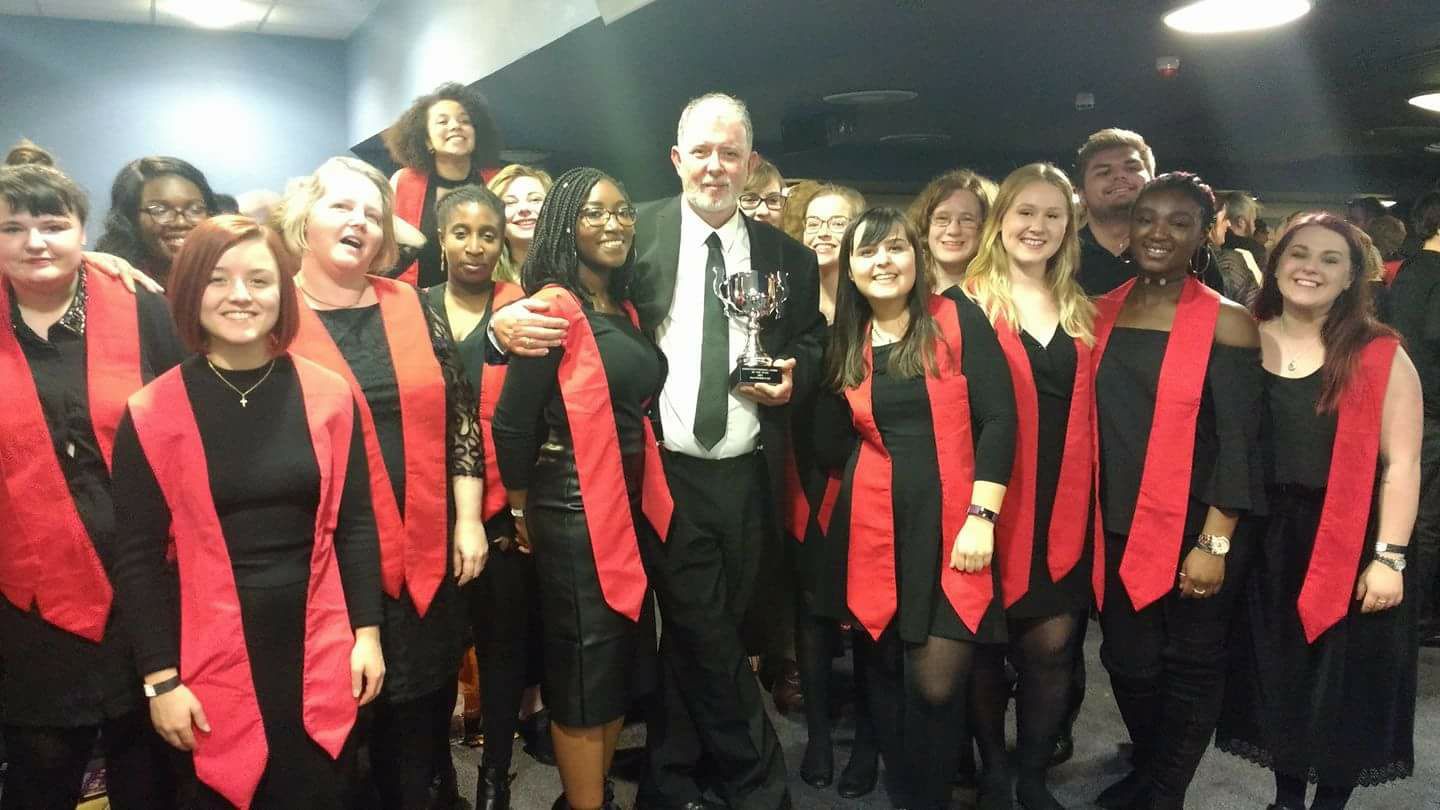 Christ Church Gospel Choir
Established in 2005 serving in excess of 1200 students, Christ Church Gospel aims to provide a safe, family environment for its members, welcoming people from all faiths and backgrounds. It brings together the whole University community of students, staff and our alumni, who proudly represent Canterbury Christ Church University. We meet every week in our University Chapel to sing, learn, rehearse and just be together as a group. Singing together helps to improve mental health and wellbeing, building confidence and bringing forward natural talent which may otherwise go unnoticed. The choir regularly performs for University and public events, such as Graduations, services, weddings and also our own concerts where we raise funds for local and national charities. We love music that is uplifting and inspiring, and full of big Gospel harmony. Hopefully, it is not only pleasing to hear, but great to sing. Christ Church Gospel have been involved in the University Gospel Choir of the Year competition since the beginning and have successfully qualified for the finals six times, coming third in 2016 and 2017.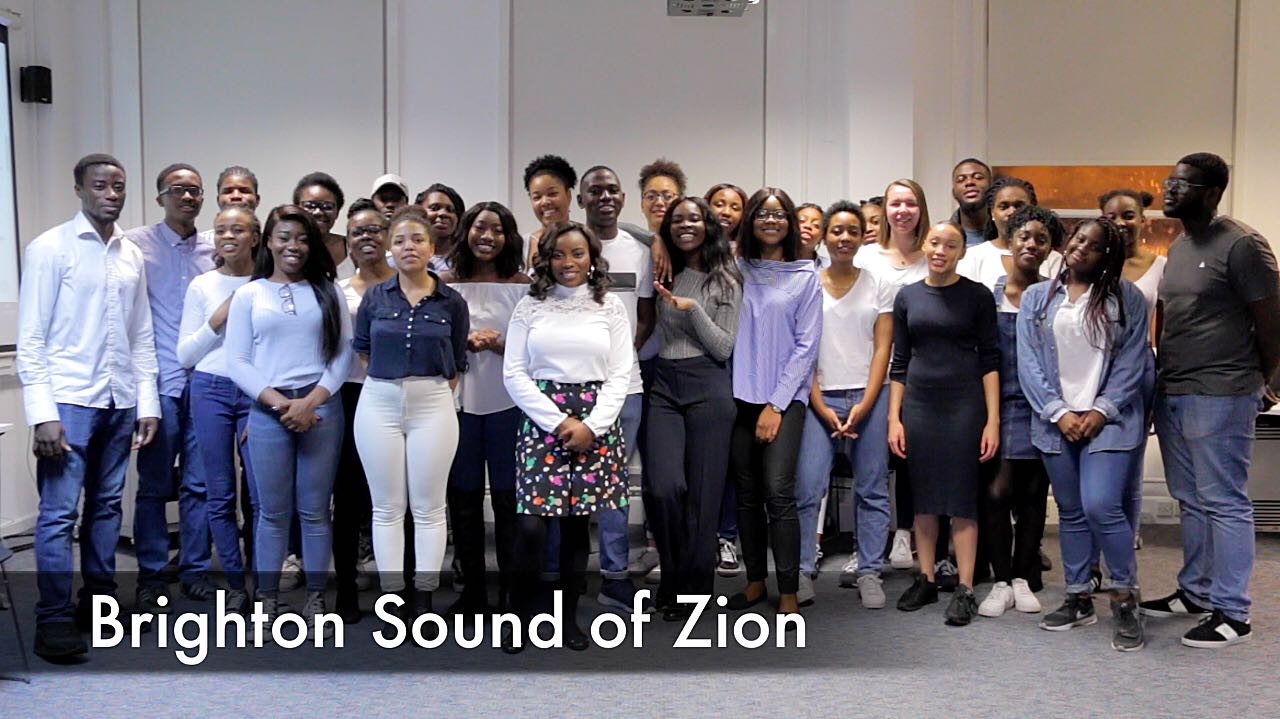 Brighton Sound of Zion
We are a choir trying to spread the message of God in our place of school, work and home using our Sound. Being a part of the choir is like a family away from home, which helps us to support one another in our university and religious lives. Having this outlet to express ourselves, while doing something we enjoy & while praising God is an experience we want everyone to feel. The bible verses we are founded on Psalm 137:1-5, & Jeremiah 29:4-7, also reflect our aims, which are to help inspire university students to celebrate their faith in a place that they may not necessarily know or are comfortable in-whether this is with their voices, instruments or other talents that they have. We hope to be able to expand our choir to the wider community and share God's message beyond the university's vicinity.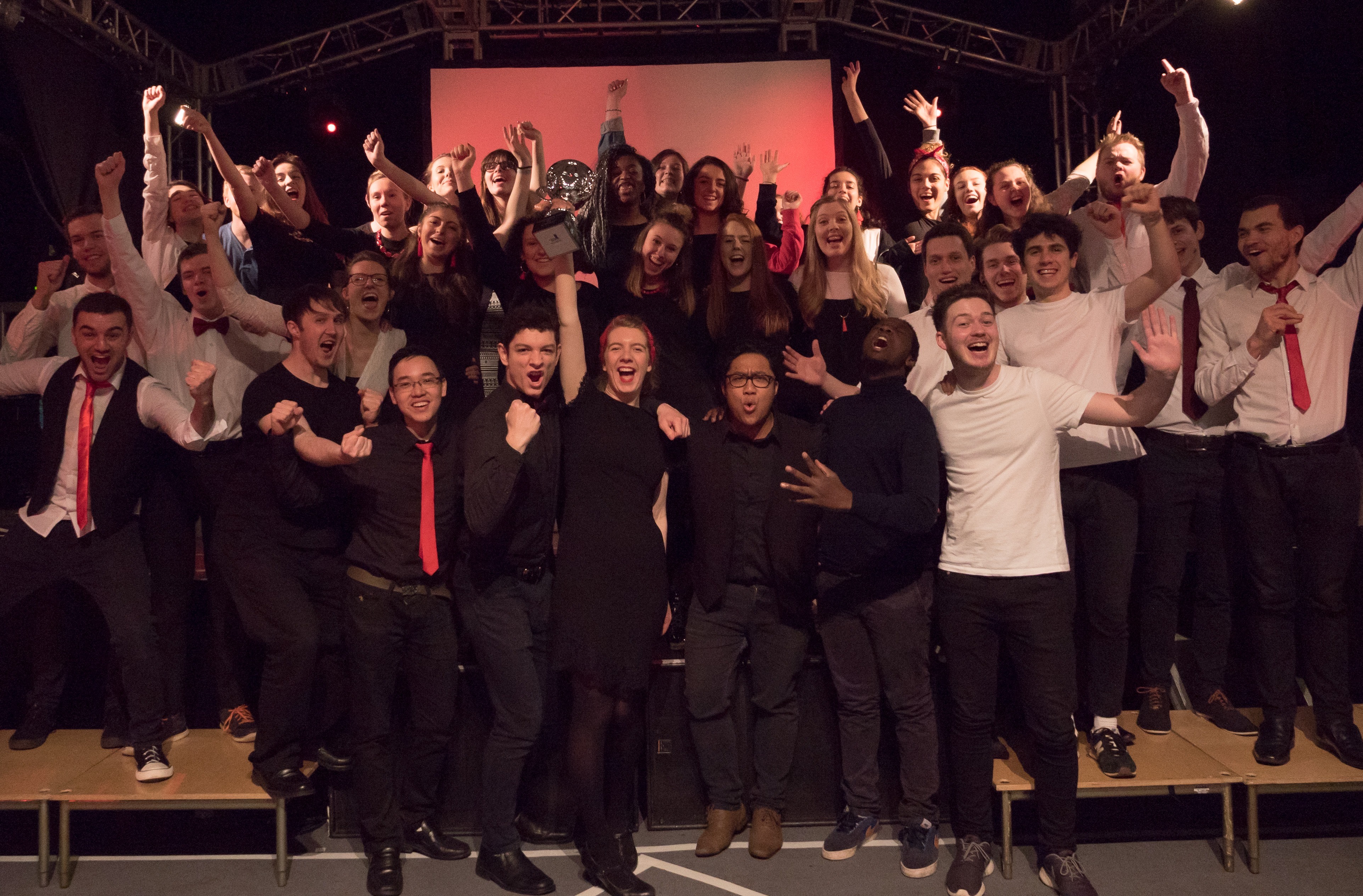 Nexus ICA Gospel Choir
We are a choir made up of students, alumni and staff from Nexus Institute of Creative Arts. We love singing together and producing a sound that reflects the truth of our lives - a people built on God's Word. We loved UGCY 2018 and have been busy with performances since then - but now we are looking ahead to UGCY 2019! See you all there!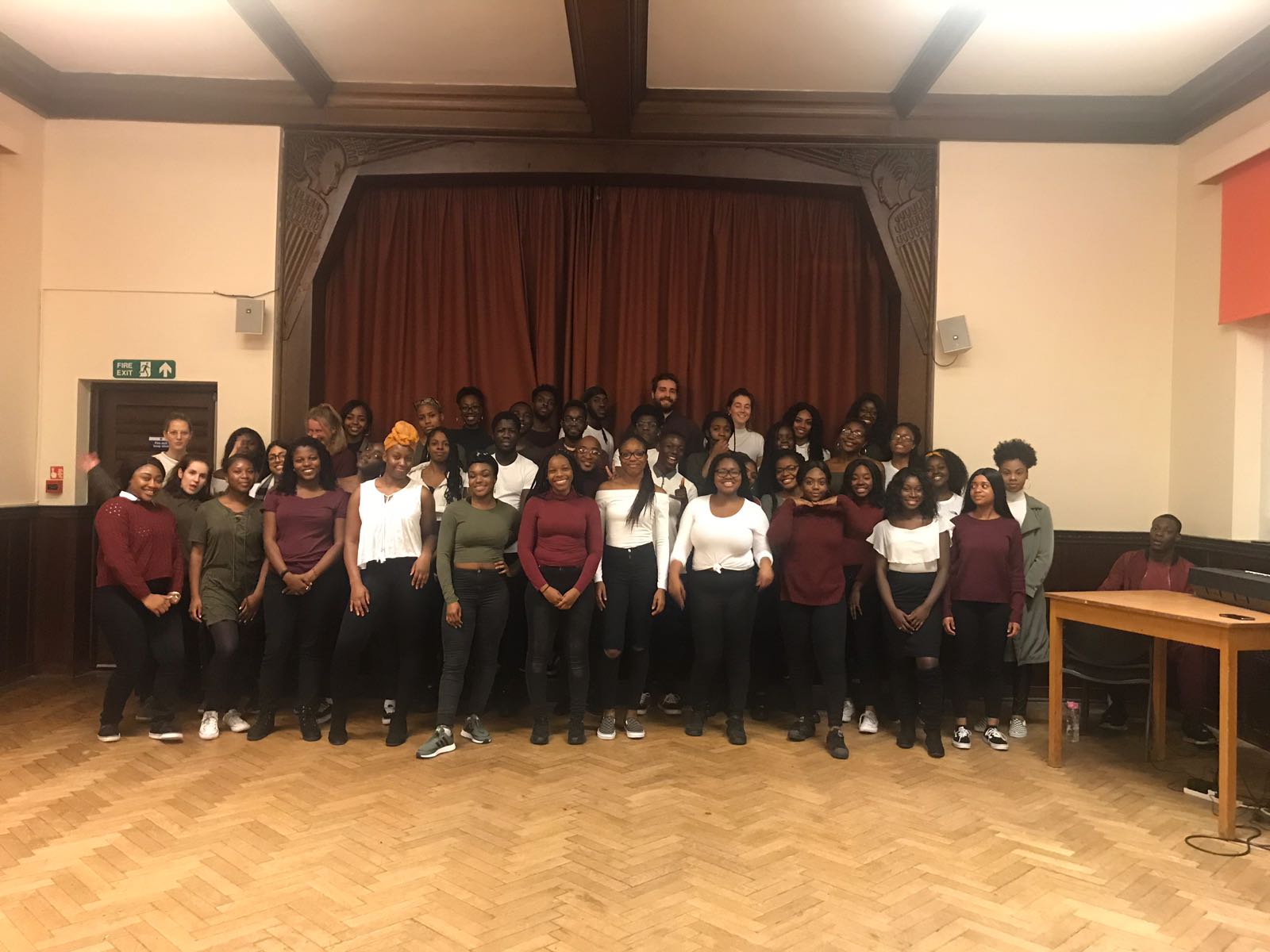 Birmingham Gospel Choir
UOB (University of Birmingham) Gospel Choir is a group of students who come together weekly at rehearsals with the aim to glorify God with their musical gifts and talents. The choir was established in March 2016 by founder Dupe Olawande and co-founder Ife Adeyemi. After they graduated, Shanice Hobbs was elected as President and currently leads the choir alongside a strong committee. Established with 10 members, the choir has grown to 50+ members including musicians and singers. Students with varying vocal and musical abilities and experience are encouraged to join the choir. Members therefore range from singers and musicians with prior experience in Church to members who have never sang publicly. With the vision of the Choir being to glorify God, we recognise the importance of doing this not only through music, but also community and faith. University can be unsettling and the choir provides a community and safe-space for all members. Socials are organised enabling members to have fun and build relationships. Members are at various stages in their faith and choir is a platform where they can express this freely and grow through prayer and discussions of themes and lyrics of songs to aid the understanding of them.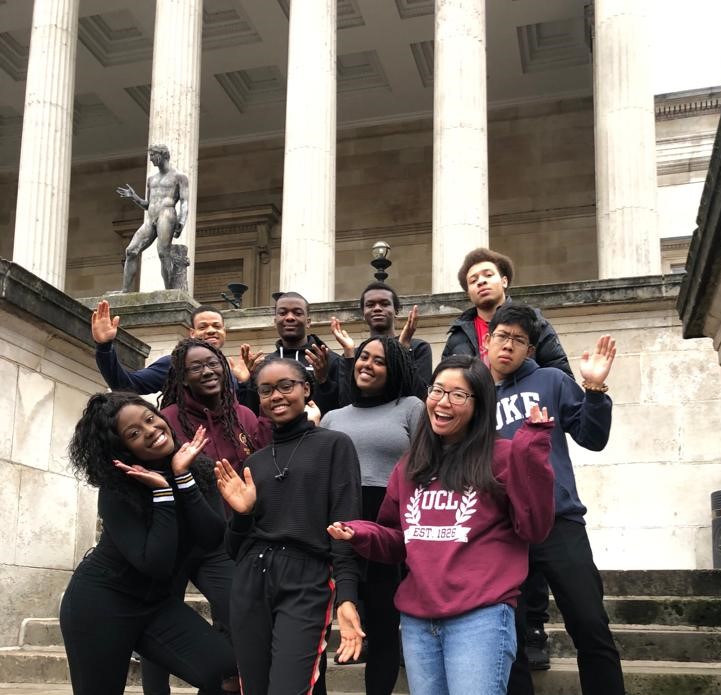 University College London - VOCE
VOCE stands for Voices on Campus Expressing the Gospel and this is the core of our choir's mission. We achieve our mission by collaborating with other music societies on campus and this has helped to spread the gospel and grow our choir from strength to strength. We are a group of vibrant, diverse students who have a heart to bring the young people of UCL to Christ through songs of praise and worship. VOCE isn't just a choir, it's a home away from home - we are a family and together we hope to bring joy and happiness to the world, one song at a time!
Durham University Gospel Choir
Durham University Gospel Choir was established in 2011 as a society wanting to bring something different to the University music scene. From humble beginnings with just five singers and a drum, the choir now boasts over 35 regular members from all areas of the University. Being an auditioned choir ensures that we maintain a high quality of musical performance in a fun and lively choir setting. We aim to reach a diverse range of venues in order to share our love of this music. Members are not required to be religious nevertheless our ethos reflects the roots of gospel music: community, love and joy. Our performances have spanned the length of Durham. We perform throughout the year, from Market Place busking to concerts in the Cathedral. It is very important for us to give back to the local community and so many of our concerts aim to support the local community and charities. Performances include the Durham Nativity, the Christian Union Carol Concert, our annual Gospel concert in the summer term as well as almost every college summer ball. We would love to take this passion on a national scale!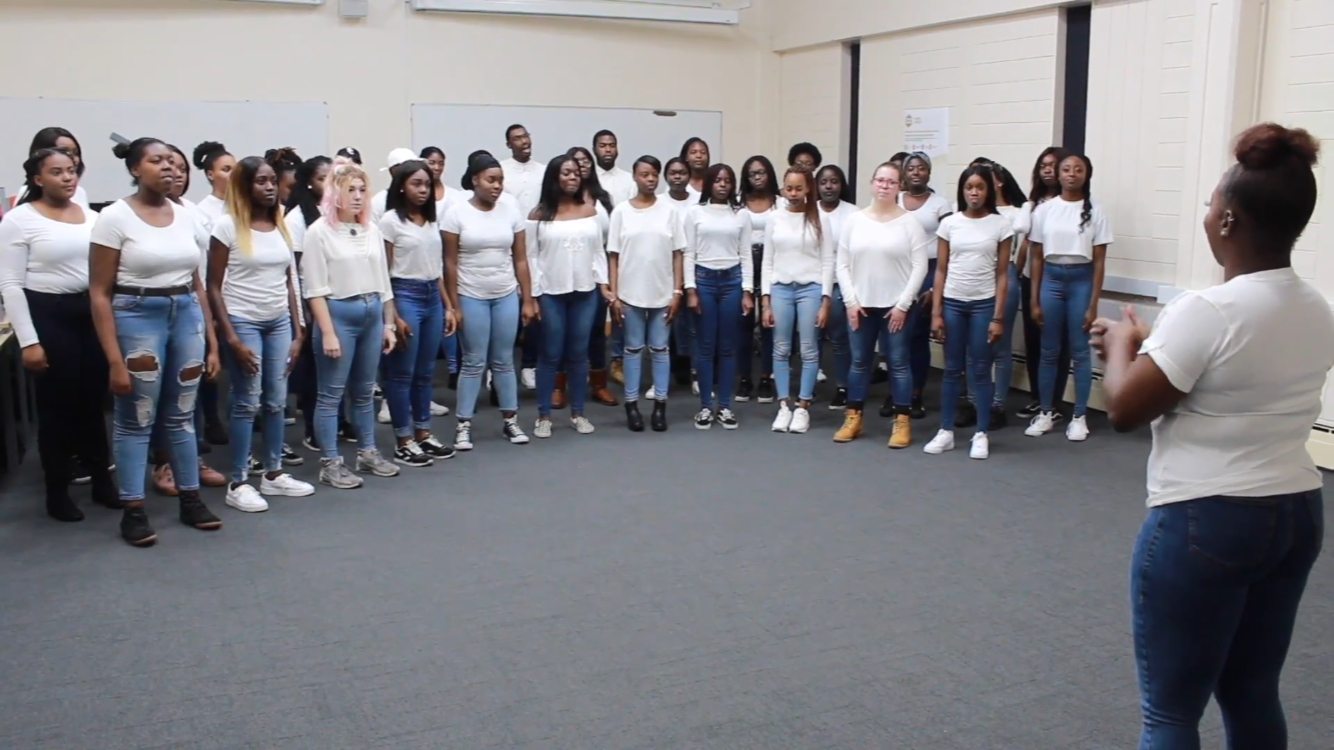 Kent University Gospel Choir
Our choir is very diverse and fascinating in its own special way. We are very team focused and ensure that everyone is able to have a chance to take part in leading or teaching the choir. We are always ready for any challenge and are always ready to use our gifts and talents to spread the Gospel. We are more than just a choir, as we have built strong friendships and have formed our own little KGC family that will last a life time. Our aim is to ensure that the members not only have fun, but also develop themselves musically and are able to step outside of their comfort zones. We have different ranges of singers, those who have a wide range of experience musically and those who had never sang in a choir before, but what we have created has been amazing. We hope that we can continue to create this wonderful atmosphere for people to be free and enjoy themselves while freely showcasing their talents. KGC was birthed from a vision and has continue and will continue to forever walk in that vision. The only way is up for us!
University of Surrey Gospel Choir
The University of Surrey Gospel Choir was founded in 2009 and has been going strong ever since. The choir is open to all cultures, levels and abilities and we have always had members from a multitude of subject areas, brought together by a mutual love of music and singing! We have performed at a wide range of both local and national events since our inception, at venues ranging from the student pub to Guildford Cathedral and even the Royal Albert Hall! As part of our community outreach we regularly perform for the elderly, both at local sheltered housing and at the Cathedral's Thursday morning coffee concerts. We have also run workshops in local schools, helping to foster a passion for music in children and young people. Within the university, we play a large part in the life of the music department, collaborating with a variety of other ensembles such as Big Band and Jazz Orchestra on events including Black History Month, the One World Gala, and charity concerts. We would be absolutely thrilled to be able return to the UCGY final for the fourth time in recent years, and can't wait to get involved again after a year away!