TICKETS TO UGCY 2018 ARE NOW ON SALE!
https://ugcy2018.eventbrite.co.uk
Since 2011, the multi-award winning University Gospel Choir of the Year (UGCY) has never failed to disappoint with its annual fun-filled, "sister-act"; "gospel choirs-meets-X Factor "style competition, that is guaranteed to leave you dancing, singing and wanting more!
Join us for the 8th Annual University Gospel Choir of the Year (UGCY) which is set to be a fun and exhilarating evening where 9 university gospel choirs will battle it out to be crowned University Gospel Choir of the Year!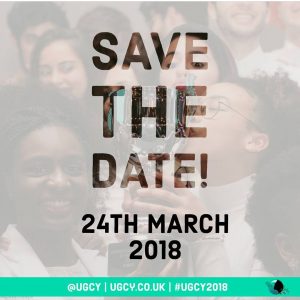 Check out our finalists below!
We are pleased to announce the 2018 UGCY finalists are (in no particular order):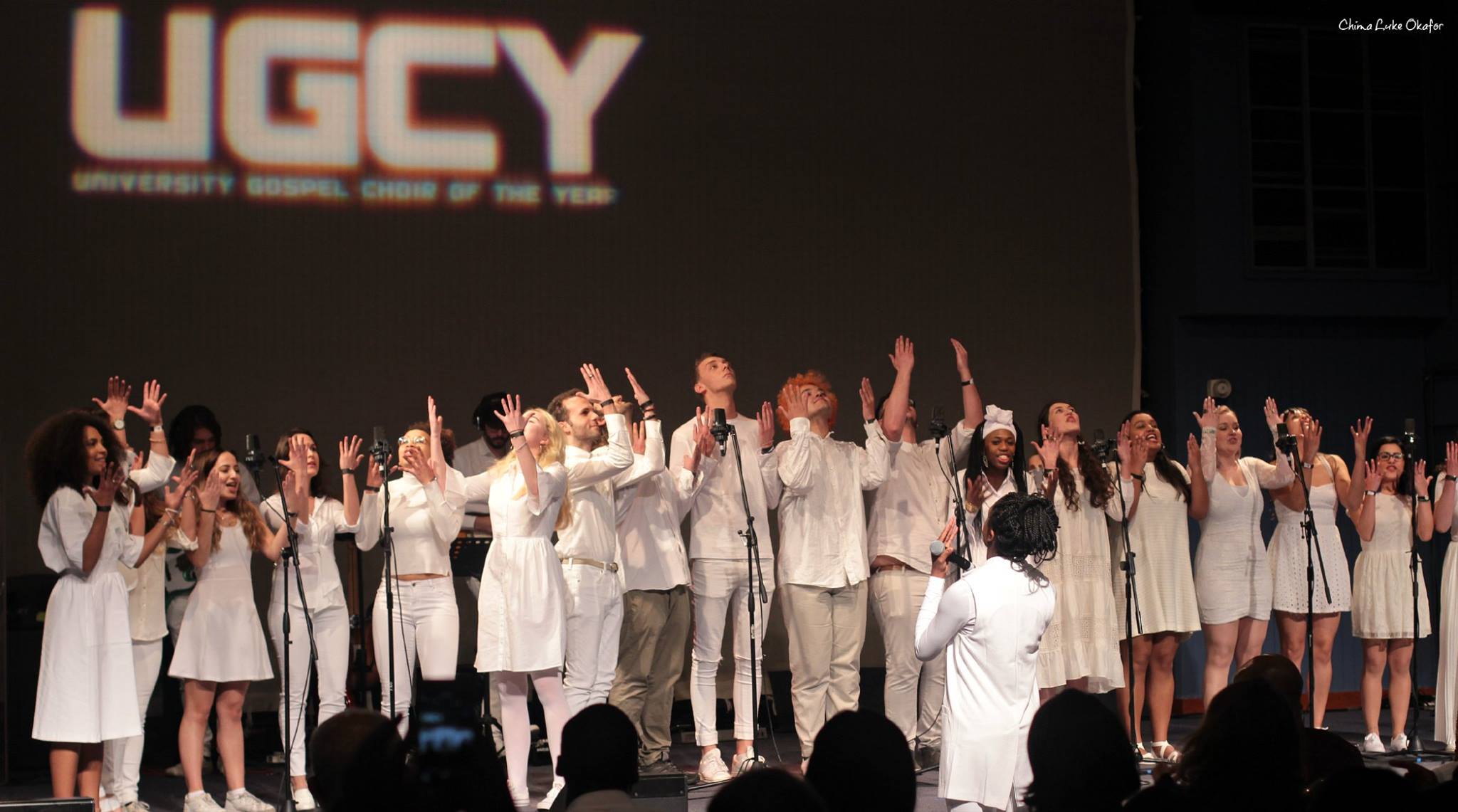 UGCY 2017 Winners - LCCM Gospel Choir
Back to defend their title, our UGCY 2017 winners London College of Creative Media Choir is a University Choir full of students with a passion for music. Since 2014 the choir has grown from strength to strength. The choir rehearse every Monday during term time and work on songs from all genres. LCCM were also finalists in the 2017 Songs of Praise Gospel Choir of the Year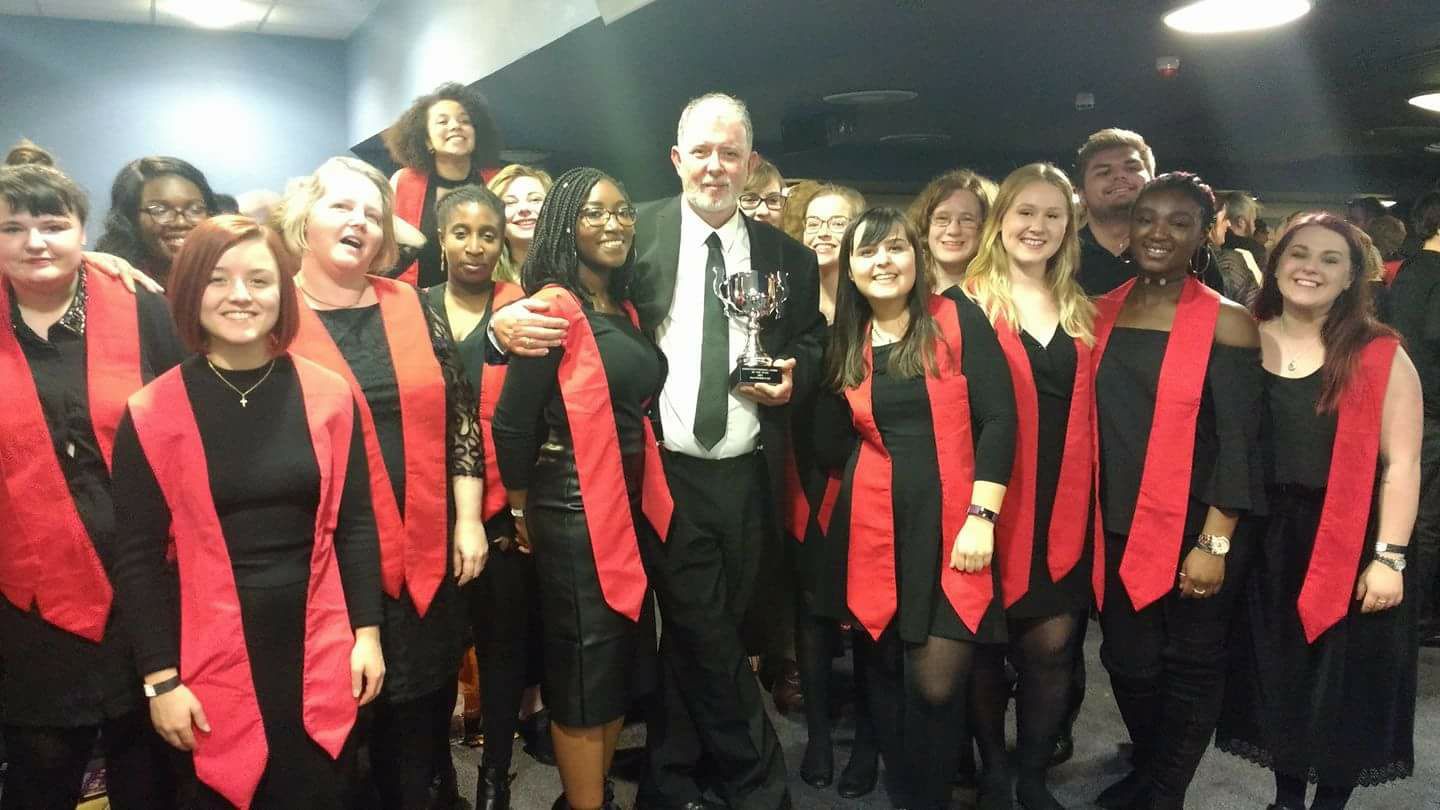 Christ Church Gospel Choir
Christ Church Gospel Choir was first established in 2005 and welcomes members from the whole University community - students, staff and alumni, regardless of faith belief or ability. This has become very popular with our students and we have welcomed in excess of 100 freshers per year to our taster sessions. Since UGCY last year we have sung again for the Archbishop of Canterbury in our Cathedral and held our end of year concert raising funds for the Porchlight charity. Our aim is to provide a close knit community who enjoy singing together and to the best of their ability representing our University wherever the road takes us.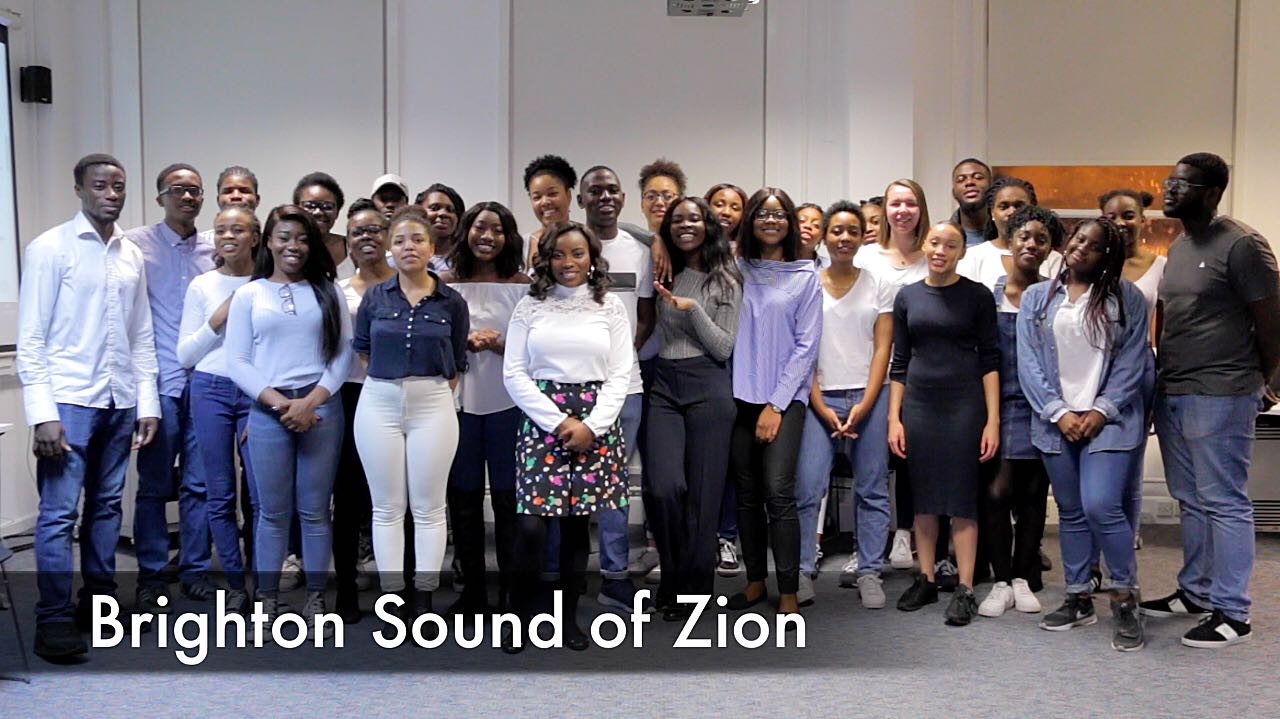 Brighton Sound of Zion
We are a choir trying to spread the message of God with our Sound in our place of school, work and home. Being part of the choir is like a family away from home, which help to support one another in our uni life and religious life. Having this outlet to express ourselves doing something we enjoy, while praising God is an experience we want everyone to feel. The bible verses we are founded on Psalm 137:1-5, Jeremiah 29:4-7, also reflect our aims, which are to help inspire uni students celebrate their faith in a place that do not necessarily know or are comfortable in, whether this is with their voices, instruments or other talents that they have. We hope to be able to expand our choir to the wider community and share God's message beyond the university's vicinity as a choir.
Nexus ICA Gospel Choir
The Nexus ICA Gospel consists of a group of passionate students who love to sing together. Gospel choir runs as an optional class and anyone can sing! The choir you are listening has members from every discipline taught at Nexus ICA - sound engineers, keys players, guitar & bass players, drummers and vocal students. The choir encourages all to come together and through the building of a strong community we combine our energy and passion to make a powerful and unified declaration.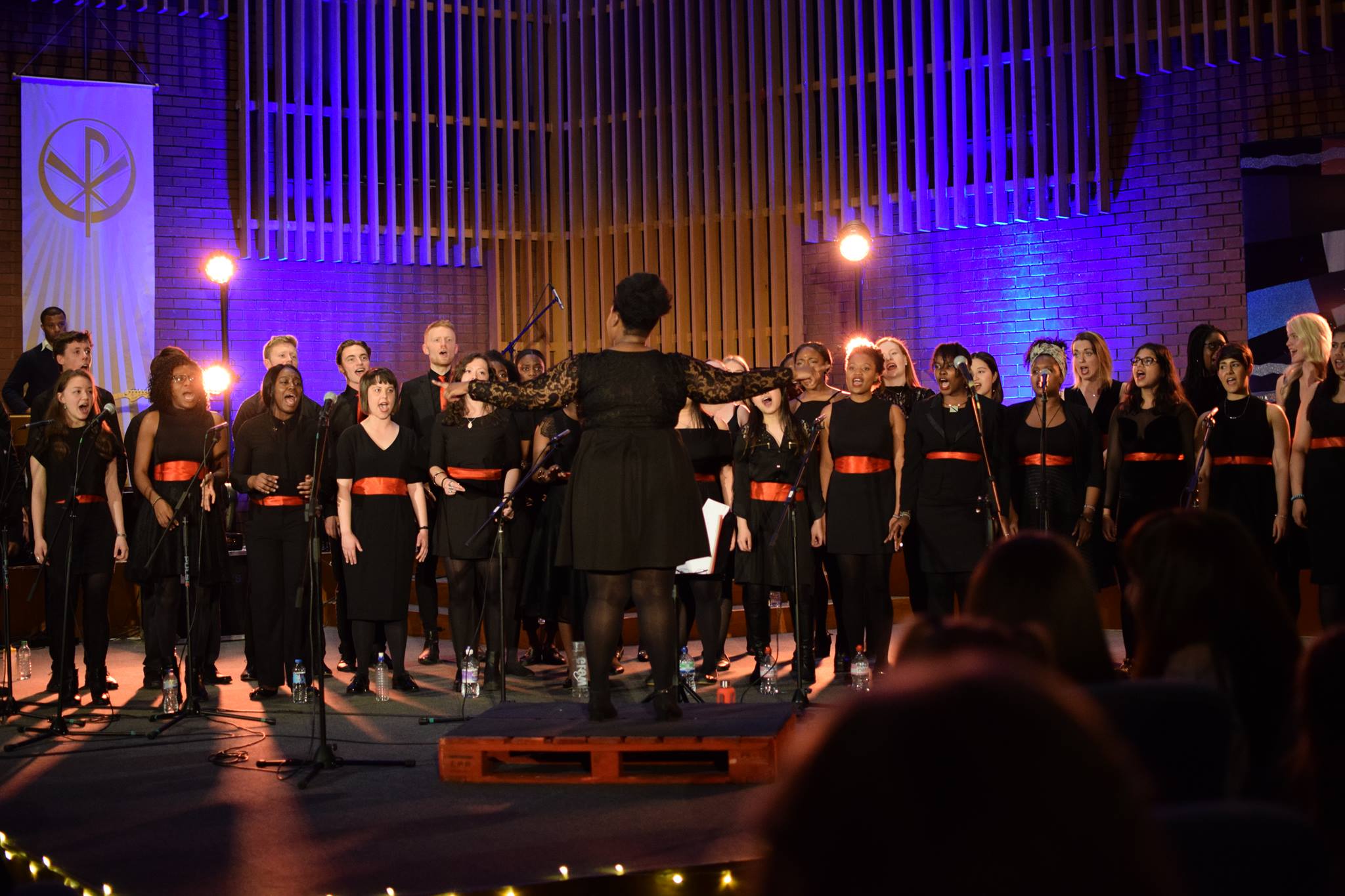 Manchester Harmony Gospel Choir
UGCY winners in 2012 and 2013, Manchester Harmony Gospel Choir is back! Our choir is based in Manchester and we are a fun and vibrant choir, full of energy and joy! Our aims are to bring the powerful and beautiful sound of gospel to the local Manchester area and the universities of Manchester. We are made up of University of Manchester students and some graduates that have decided to stay on so there is a bunch of different people from all walks of life! We love to sing and a lot of us don't have religious affiliations, we are just a group of young people who love the sound and life of gospel. Everyone is the choir is lovely and bubbly, ready to enter the room with the vocals and to shift the atmosphere when we worship in song. The concerts we do are always amazing and bring us together! Being part of the choir is just a pleasure and we all get on so well with each other! All Gospel Love!
Cambridge University Gospel Choir
The Cambridge University Gospel Choir (CUGC) aims to share the good news of Jesus Christ and to inspire members and non-members of the University through various forms of contemporary gospel music. We were founded in November 2016. We sing to proclaim the good news of Christ and the hope his word brings to all. We sing to express the love of God in us and to share this love to all around us. We sing to express our freedom in Christ and to encourage others to share in this same experience. We sing to inspire and uplift others, especially those going through difficult times. As a Gospel Choir seeking to touch lives and to make an impact in our University and the society through gospel music, we hold monthly events during our term time. These events which include worship services, Gospel Music Concerts, outings, etc. bring together members and non-members of the University to celebrate the love of Jesus through gospel music. We hope to continue to reach out to people around us to share the good news of the gospel of Jesus through our song ministrations. We also look forward to inspiring a new generation of true worshipers and gospel musicians who will make a difference around the world. 
Kent University Gospel Choir
Our choir was just created this academic year, and in this short space of time we are very proud of the progress we have made. We are from University of Kent based in Canterbury, there are many choirs around however we are somewhat different, as we are very diverse in terms of cultures. We always aim to capture the gospel feel, whilst ensuring that our choir are engaged in what they are singing. We have already been called to sing at various events, and even had the chance of singing with London Community Gospel Choir at their concert. Our aim is to spread the gospel through music, whilst capturing the beauty of gospel music featuring musical dynamics which we use to tell the story of what we are singing.
Birmingham Gospel Choir
We are a young society that became established in March 2016. Growing from just a small fellowship group to a fully-fledged choir of over 45 members in just over a year, through teamwork and faith we have performed professionally in front of thousands of people, with highlights including performing at the West Midlands Pre-Election Mayoral Assembly 2017 and The Grand Gospel 2016. These performances as well as collaborations with societies like "UOB Help the Homeless" have also enabled our choir to build strong ties with our regional community. Being a member of our gospel choir brings opportunities to grow and develop as a musician as well as a sense of community within those who want to gather and promote the word of God through music. As the members of our choir range from first year students to fourth year students, we place emphasis on socialising with one another and building relationships as a family. Coming together in this way is evident through the unity of our choir when we perform.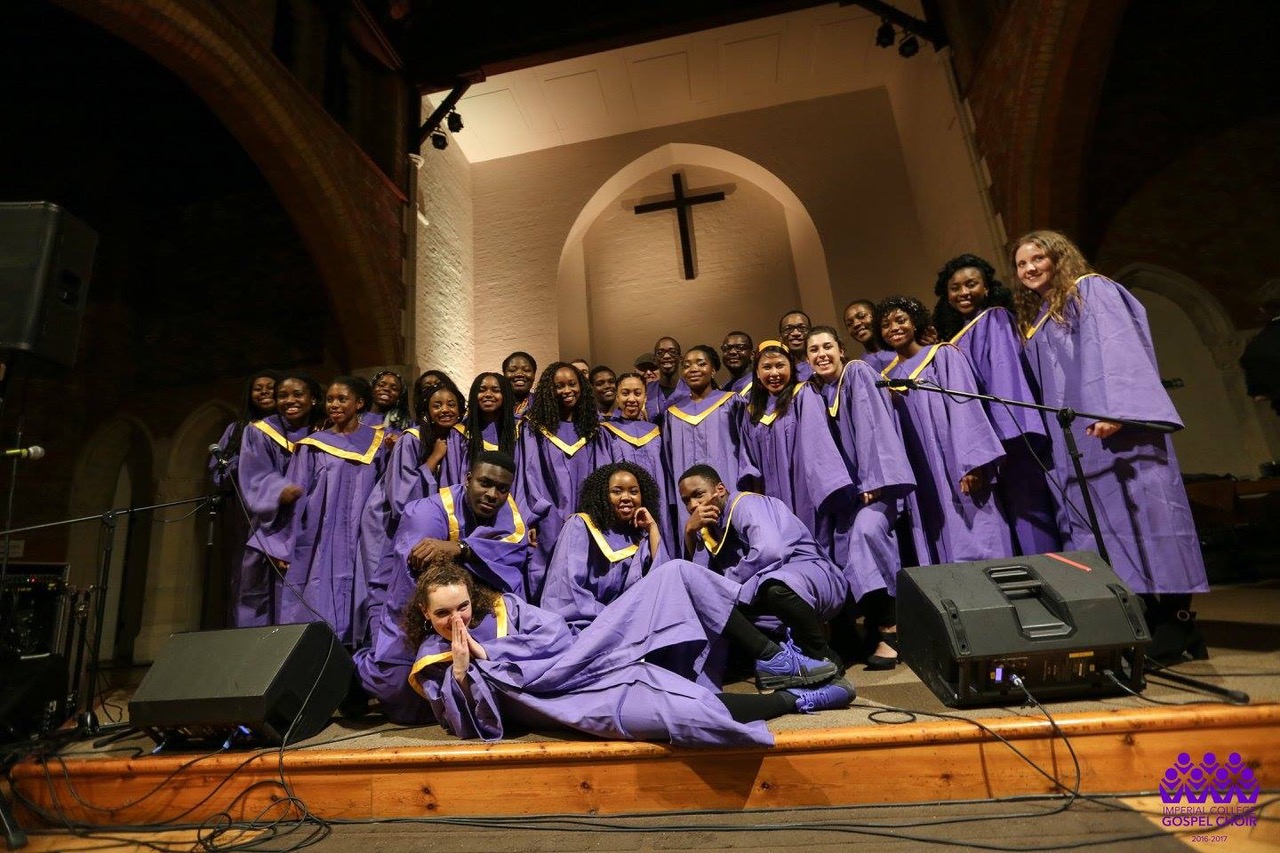 Imperial College Gospel Choir
ICGC is a fun, friendly choir that has become a family for each of us. The choir means different things to us: it's home, a place to forget uni struggles, a place where you welcomed and accepted. ICGC is a place where we can express a side of ourselves that we don't often get to see. We are non auditioned and so welcome everyone who has an interest in gospel music or singing in general. Our aim as a choir is to spread the love of God and the joy that singing brings. We hope that when people see or hear us singing - they would share in the love that we have for music. This year has been a highlight, having taken part in UGCY with our largest choir to date and holding 2 concerts. We also took part in our ACS's cultural show and raised money for charity. Over the summer we at a wedding and other events to raise money for the choir.