Looking for a Choir?
Look no further! UGCY has a network of choirs (over 4000 singers!) across the UK, made up of our house choir – Uplifted Voices and past & present performers of our annual competitions, providing our clients with the very best gospel sound for Weddings, TV, Events and Performances!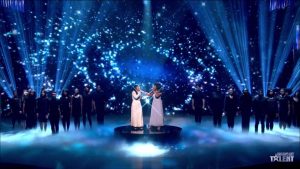 Uplifted Voices and our member choirs are guaranteed to leave you uplifted and inspired. Over the past 6 years our singers have been involved in a whole host of Weddings, high-profile performances and events:
UGCY works every year with ITV's the X-Factor and Britain's Got Talent (BGT) as the exclusive supplier for in-vision backing gospel choirs and has done since 2011 (including ad-hoc supply of musicians)
UGCY finalists featured for the 2nd time in the BBC Gospel Proms
UGCY partnered with Amacoast cinema as they present an exclusive and immersive screening of the classic box office hit film, Sister Act starring Whoopi Goldberg. For 6 shows  in September and October 2016 the film will be accompanied by UGCY's live gospel choir and band
UGCY 2016 winners performed at the Premier League winner's celebrations in Leicester as well as Sky news' coverage on Leicester's City football club's title campaign!
UGCY has provided choirs for TV commercials such as ITV's Text Santa campaign (2015), Beats by Dre TV ad
UGCY regularly provides our best singers for Weddings, Corporate & Charity events, Music recordings and Christmas celebrations!
Our Uplifted Voices Gospel Choir has tailored packages to meet your needs! This means that you can benefit from our years of experience putting choirs together and performing to such high standards which is guaranteed to leave you UPLIFTED and INSPIRED!
Why not book our choir! Get in touch below!