Anu Omideyi
Choir Director, Reapers Choir
---
For UGCY 2016 we welcome Anu Omideyi to the judging panel.
A criminal barrister by profession, Anu began her legal career in 2001 and paused it in 2014 when other areas of her life began to flourish. She ran a successful criminal practice spanning all areas of criminal law. Anu is now the choir director and manager of the award-winning The Reapers Choir, a gospel choir that was a finalist in BBC1's Gospel Choir of the Year 2014 and has performed in venues including 10 Downing Street for the Prime Minister, Kensington Palace, the Royal Albert Hall, the Royal Festival Hall, and the London African Music Festival 2015 and several local venues too numerous to mention.
The vocal ability of this unique singing collective has been recognised nationally and internationally, with the gospel outfit winning "Choir of the Year" and "Choir Director of the Year" (Anu Omideyi), in the Zeta Gospel Music Awards, Tennessee, USA, in October 2015. The choir was also nominated for the British Gospel Music Alliance Industry (GMIA) award for "Best Music Video by a UK Choir/Group" (JUMP Music Video Awards) in 2014. 2016 has gotten off to a great start with the choir having been booked for many future events this year including repeat appearances at the Royal Festival Hall and Royal Albert Hall again as well as appearances at Premier Gospel Week and the Christian Resources Exhibition at ExCel Centre in London. For more information about The Reapers Choir visit their website: www.thereaperschoir.co.uk.
Anu is also the director for the Hackney Community Gospel Choir which is open to anyone of any faith and any singing ability.
Other talents of Anu's include: Songwriter & Producer Public Speaker and Host Broadcasting Leadership, inspiration and motivation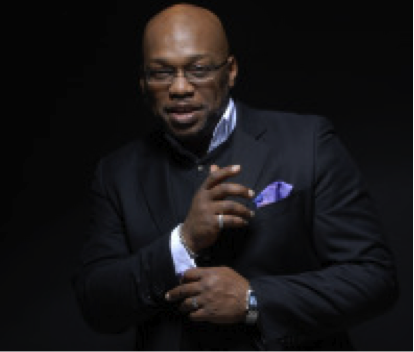 John Fisher
Founder & Director, IDMC
---
Guest judge for UGCY 2015, John is a member of one of the largest African Caribbean churches in England, the New Testament Church Of God (NTCG), which has a membership of approx. 8,000 people. He is the Minister Of Music in his local assembly in Brixton, South London.
Born 20th April 1966, known as one of Britain's top drummers, and an all round musician, John has been around for over 30 years and is a well-known and respected face in the British Gospel Music industry.
John was the principal drummer for the first gospel musical to ever play at a major West End theatre called MAMA I WANT TO SING which starred the Legendary Chaka Khan and Doris Troy. This explosive production boasted a cast of the top British gospel musicians and singers in the country at that time. They played 8 shows a week and ran for 6 months from January – July 1995.
As a drummer, John's list of credits is quite phenomenal as you can see below.
Nowadays John teaches drums and conducts regular vocal workshops for schools, colleges, churches and various music programs around the UK.
Although his drumming engagements are not as much as back in the day, John now enjoys seeing his sons André and Dayna play drums & bass with the same vibe he showed when he played regularly.
Founder and Director John Fisher has had a long and established career within the UK gospel industry, both front and backstage. Read more about the people he has worked with over the years.
Mark De-Lisser
ACM Gospel Choir
---
Mark De-Lisser is a voice coach and singer who specialises in choirs and contemporary choral arranging. With an MA in Voice Studies from the Central School of Speech and Drama, Mark is a voice practitioner who regularly lectures on all aspects of the voice and it's uses. He is always keen to allow the singer/speaker to feel real freedom when communicating either in speech or song.
This freedom is reflected in his choral work and vocal arrangements. Mark is well known for his work with and leadership of the ACM Gospel Choir, who featured on BBC1's Last Choir Standing and have since toured with Russell Watson, sung with Beverley Knight, Alexandra Burke, Nelson Mandela and performed for the Queen at the Royal Tattoo for the past two years.
His arrangements have captured the hearts of many keeping Mark and the choir in high demand. Some of his arrangements have been published in two books by Novello, entitled Sing Out! Pop songs for today's choirs. Mark's is also a senior lecturer in voice and commercial music performance at the University of Westminster and director of Singology, a facility to help young singers grow and develop their singing and performance skill.